Sorry for the lack of updates. Out of internet connection for almost a month now, and now finally I'm back for more updates. As you might know, I update more frequently in
Facebook Cupcake Indulgence page
:) Join as fan for updates right in your Facebook wall!
If you are looking for some Power Puffing cupcakes, here is it! :) Chocolate cupcakes with yummy chocolate chips topped with Power Puff Girls sugar paste decorations.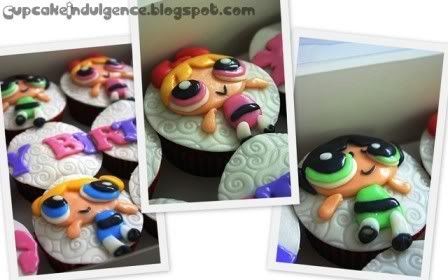 Suitable for kids or young-hearted-adults, this set of cupcakes are perfect for everyone!


The all famous Bubbles, Blossoms and Buttercup all placed on top of yummy chocolate cupcakes.

Bring the child in you! :)